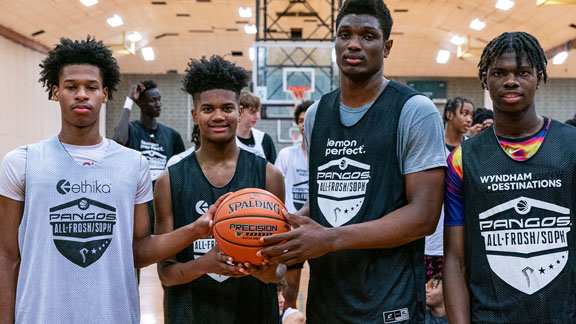 We took in all the sessions of the 2023 Pangos All-East Frosh/Soph Camp at West Chester University (West Chester, Pa.) and broke down our notes and evaluations to rank the top fifty players in attendance.
We hope you enjoy this free story. To access all our event top performer rankings, national player rankings back to 1983, recruiting updates and other features, please subscribe today! CLICK HERE for more subscription details and sign up info.
The following rankings are based on evaluations of approximately 225 campers (14 states) from all the sessions, not just the two Cream of the Crop All-Star Games. The following rankings are based on performance at the camp only, not on performance combined with previous honors, national or state player rankings. They are also ranked with actual performance in mind, not a player's potential as a college prospect. Some players did not participate in every session of the camp and in some instances that altered the rankings. Many times point guards, or players with the ball in their hands, tend to dominate showcase settings such as the Pangos Frosh/Soph Camp (s), but this camp was dominated by the interior players and the guards did a solid job of getting the post players the ball.
RELATED: SIZE Matters at Pangos All-East!
Editor's Note: Use the scroll bar underneath the table, or use your fingers to scroll to the right, to view all the data within the table.
| No. | Player | Class | HT | POS | Hometown |
| --- | --- | --- | --- | --- | --- |
| 1 | Keiner Asprilla | 2026 | 7'1 | C | Don Bosco Prep (NJ) |
| 2 | Akol Nyok | 2027 | 7'1 | C | Glen Elg Country (MD) |
| 3 | Collins Onyejiaka | 2026 | 6'10 | C | Newman School (MA) |
| 4 | Jermel Thomas | 2026 | 6'3 | G | Cardinal Hayes (NY) |
| 5 | Andrew Kretkowski | 2026 | 6'7 | F | Rutgers Prep (NJ) |
| 6 | Dylan Perry | 2026 | 6'7 | F | Archbishop Stepinac (NY) |
| 7 | Quinn Costello | 2026 | 6'9 | F | Newman School (MA) |
| 8 | Moussa Kamissoko | 2027 | 6'7 | F | Trinity Pawling Prep (NY) |
| 9 | Logan Franz | 2026 | 6'10 | C | Rutgers Prep (NJ) |
| 10 | Jasiah Jervis | 2026 | 6'5 | G | Archbishop Stepinac (NY) |
| 11 | Darius Ratliff | 2026 | 6'9 | F | Archbishop Stepinac (NY) |
| 12 | Frank Siaca Bey | 2026 | 6'8 | C | Fairfax Christian (VA) |
| 13 | Julius Avent | 2026 | 6'7 | G | Bergen Catholic (NJ) |
| 14 | Munir Greig | 2027 | 6'6 | F | Archbishop Carroll (PA) |
| 15 | Elijah Jenkins | 2027 | 6'4 | G | Scanlan (NY) |
| 16 | Zion Green | 2027 | 6'8 | F | Imhotep Charter (PA) |
| 17 | Al' Tariq Reevey | 2026 | 6'9 | C | Life Center (NJ) |
| 18 | A.J. Williams | 2026 | 6'7 | F | Bergen Catholic (NJ) |
| 19 | Tyler Sutton | 2027 | 6'1 | G | George School (PA) |
| 20 | Ethan Johnston | 2026 | 6'5 | G | The Hill School (PA) |
| 21 | Marvin Reed | 2027 | 5'11 | G | Malvern Prep (PA) |
| 22 | Shane Pendergrass | 2026 | 6'9 | F | Mt. Zion Prep (MD) |
| 23 | Abdourame Toure | 2026 | 6'5 | F | Notre Dame (CT) |
| 24 | Neiko Mundey | 2026 | 6'2 | G | Sabatch Christian (MD) |
| 25 | Jalan Wingfield | 2026 | 6'7 | F | Tri-Cities (GA) |
| 26 | Evan Mitchner Jr. | 2026 | 6'3 | G | Lawrence Academy (MA) |
| 27 | Ashton Pierce | 2026 | 6'3 | G | North Mecklenburg (NC) |
| 28 | Jordan Dill | 2026 | 6'1 | G | Germantown Friends (PA) |
| 29 | Janon Singh | 2027 | 6'6 | F | Berkmar (GA) |
| 30 | Aidan Carter | 2027 | 6'3 | G | St. Benedict's (NJ) |
| 31 | Hassan Koureissi | 2026 | 6'4 | G | Archbishop Stepinac (NY) |
| 32 | Cam Smith | 2026 | 6'6 | F | Academy of New Church (PA) |
| 33 | Kyon Coles Jr. | 2026 | 6'2 | G | Ponoco Mountain West (PA) |
| 34 | Adonis Ratliff | 2026 | 6'8 | F | Archbishop Stepinac (NY) |
| 35 | Johansel Cruz | 2026 | 5'9 | G | Monsinger Scanlan (NY) |
| 36 | William Higgs | 2026 | 6'11 | C | St. Peter's Prep (NJ) |
| 37 | Andrew Ross | 2027 | 6'2 | G | St. Stephens-St. Agnes (VA) |
| 38 | Merrick Rillstone | 2026 | 6'7 | F | South Lakes (VA) |
| 39 | Jay Nelson Mboudjika | 2026 | 6'9 | C | Cats Academy (MA) |
| 40 | Jaylen Townsend | 2026 | 6'2 | G | St. Joseph Catholic (SC) |
| 41 | Ryan Warren | 2026 | 6'6 | F | Academy of New Church (PA) |
| 42 | P.J. Singleton | 2026 | 6'5 | F | Canarsie (NY) |
| 43 | Alexander Egbuonu | 2026 | 6'5 | F | Lawrence Academy (MA) |
| 44 | Tre Keith | 2027 | 6'2 | G | Tri-Cities (GA) |
| 45 | Malik Adamson | 2026 | 5'10 | G | Burke (MA) |
| 46 | Saxton Simley | 2026 | 6'5 | F | Gonzaga (DC) |
| 47 | Aven Diamond | 2027 | 6'1 | G | Polytech (DE) |
| 48 | Patrick Otey | 2027 | 6'5 | G | Cats Academy (MA) |
| 49 | Milak Myatt | 2026 | 6'3 | G | Math Civic & Sciences (PA) |
| 50 | Derrick Morton-Rivera | 2026 | 6'4 | G | Father Judge (PA) |
Ronnie Flores is the Publisher of hoopscooponline.com. He can be reached at ronlocc1977@gmail.com. Don't forget to follow him on Twitter: @RonMFlores