Published by The HOOP SCOOP, Inc.
14337 Pioneer Blvd. #68
Norwalk, CA 90650
Publisher & Managing Editor: Ronnie Flores
Editor Emeritus: Clark Francis
Email Address: ronlocc1977@gmail.com
Text: (323) 573-6921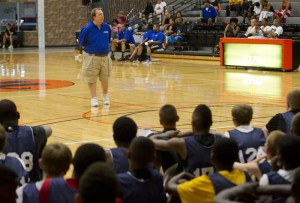 Clark Francis was the Editor and Publisher of the Hoop Scoop from 1983 to 2020 and is widely recognized as one of the foremost authorities on high school basketball and recruiting in the United States.
Francis graduated from Indiana University in 1983 with a degree in journalism, is a member of the McDonald's All-American Game Selection Committee, wrote a monthly recruiting column for over 20 years for Basketball Times, and also has been published in numerous other places, including USA Today, Blue Ribbon Yearbook, Sporting News, Syracuse Post Standard, and the Cats' Pause Pre-Season Yearbook.
Francis is also a valuable source for numerous talk shows, newspapers, and magazines and provides a unique perspective, because he's been to every NCAA Final Four since 1973, attended nearly all of the superstar oriented shoe company camps since 1983, and is usually ahead of the curve with his perspective and insight.
He also was a pioneer with regards to publishing recruiting information on the internet in the mid-90's and was one of the first to recognize the importance of getting a head start on the future and keeping track of the top players at an early age. Francis also published the book "How to Get Recruited" in 2014 to give order to provide parents and players with the unique insight he's learned about the recruiting process over the years.