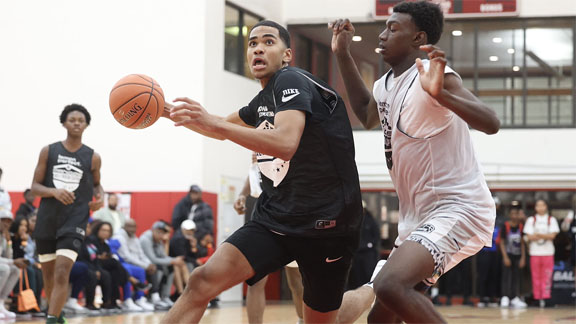 The Nothing But Net Magazine staff took in all the sessions of the 2023 Pangos All-Midwest Frosh/Soph Camp at The West Suburban Sports Complex (Lisle, Ill.) this past weekend and broke down its notes and evaluations to rank the top fifty players in attendance. HOOP SCOOP publisher and Ballislife.com Editor Ronnie Flores was not in attendance.
We hope you enjoy this free story. To access all our event top performer rankings, national player rankings back to 1983, recruiting updates and other features, please subscribe today! CLICK HERE for more subscription details and sign up info.
The following rankings are based on evaluations of all 229 campers from all the sessions, not just the two Cream of the Crop All-Star Games. The following rankings are based on performance at the camp only, not on performance combined with previous honors, national or state player rankings. They are also ranked with actual performance in mind, not a player's potential as a college prospect. Some players did not participate in every session of the camp and in some instances that altered the rankings. Keep in mind point guards, or players with the ball in their hands, tend to dominate showcase settings such as the Pangos Frosh/Soph Camp (s).
Editor's Note: Use the scroll bar underneath the table, or use your fingers to scroll to the right, to view all the data within the table.
| No. | Player | Class | HT | POS | Hometown |
| --- | --- | --- | --- | --- | --- |
| 1 | E.J. Hazelett | 2026 | 6'7 | F | Franklin Central (IN) |
| 2 | Stephen Brown | 2026 | 6'7 | F | Marist (IL) |
| 3 | Nasir Rankin | 2026 | 6'1 | G | Whitney Young (IL) |
| 4 | Howard Williams | 2027 | 6'4 | G | Whitney Young (IL) |
| 5 | Jamson Coulter | 2026 | 6'3 | G | Rich Township (IL) |
| 6 | Sekou Cisse | 2027 | 6'9 | C | Principia (MO) |
| 7 | Gabriel Sularski | 2026 | 6'6 | F | Benet Academy (IL) |
| 8 | Ricoantonio Dalessandro | 2026 | 6'4 | G | Whitney Young (IL) |
| 9 | Charles Barnes | 2026 | 6'6 | F | De La Salle (IL) |
| 10 | Andre Tyler | 2026 | 6'4 | G | Simeon (IL) |
| 11 | Jaail Love | 2026 | 6'6 | F | Manley (IL) |
| 12 | Rajan Roberts | 2026 | 6'0 | G | Kenwood Academy (IL) |
| 13 | Braden James | 2026 | 6'8 | F | Grand Ledge (MI) |
| 14 | Ben Ly | 2027 | 6'10 | C | Brebeuf Jesuit (IN) |
| 15 | Devin Cleveland | 2027 | 6'1 | G | Kenwood Academy (IL) |
| 16 | Marquis Clark | 2026 | 6'3 | G | Whitney Young (IL) |
| 17 | Bryce Wegrzyn | 2026 | 6'7 | F | Libertyville (IL) |
| 18 | Pablo Rodriguez | 2026 | 6'9 | F | Chicago Prep Academy (IL) |
| 19 | Ben Akoro | 2026 | 6'7 | F | Principia (MO) |
| 20 | Davion Thompson | 2027 | 6'1 | G | Bolingbrook (IL) |
| 21 | Jaxson Davis | 2027 | 6'1 | G | Warren Township (IL) |
| 22 | Justin Curry II | 2026 | 6'3 | G | Noblesville (IL) |
| 23 | Stevie Hall | 2027 | 6'2 | G | Cass Tech (MI) |
| 24 | Zane Craves | 2026 | 6'4 | G | Minooka (IL) |
| 25 | Morgan Travis | 2026 | 6'0 | G | De La Salle (IL) |
| 26 | Josiah Harrington | 2027 | 6'4 | G | North Scott IA) |
| 27 | Kevin Pittman | 2026 | 6'9 | C | West Allis Central (WI) |
| 28 | Wesley Rahn | 2026 | 6'6 | F | Lakeside Lutheran (WI) |
| 29 | Colin Rice | 2026 | 6'7 | F | Waukee Northwest (IA) |
| 30 | Zyheir Gardner | 2026 | 6'0 | G | Crete-Monee (IL) |
| 31 | Bryce Peters | 2026 | 6'2 | G | Merrillville (IN) |
| 32 | Panayiotis Sotos | 2026 | 6'2 | G | Maine South (IL) |
| 33 | Noah Mister | 2026 | 6'0 | G | Kenwood Academy (IL) |
| 34 | Robert Reddick | 2026 | 6'1 | G | Ben Davis (IN) |
| 35 | Cameron Mercer | 2026 | 6'2 | G | Riverside Brookfield (IL) |
| 36 | Hayden Schroeder | 2027 | 6'5 | F | Wheaton Academy (IL) |
| 37 | Cael LaFrentz | 2026 | 6'9 | F | Decorah (IA) |
| 38 | Edvardas Stasys | 2027 | 6'4 | G | Benet Academy (IL) |
| 39 | Tian Chatman | 2026 | 6'4 | G | Totino Grace (MN) |
| 40 | Kateaux Miller | 2027 | 6'3 | G | Porter Gaud (SC) |
| 41 | Christopher Kirkpatrick | 2026 | 6'3 | G | New Trier (IL) |
| 42 | Jamarri Fears | 2027 | 5'9 | G | Joliet West (IL) |
| 43 | Markese Peoples | 2027 | 6'1 | G | St. Laurence (IL) |
| 44 | Dayton Stephens | 2026 | 6'4 | G | Pike (IN) |
| 45 | Adam Anwar | 2026 | 6'7 | F | McHenry (IL) |
| 46 | Jordan Williams | 2026 | 6'4 | G | Fremd (IL) |
| 47 | Lazar Djilas | 2027 | 6'7 | F | Greendale (WI) |
| 48 | Claude Mpouma | 2026 | 6'7 | F | Phillips (IL) |
| 49 | Reggie Postlewaite | 2026 | 5'11 | G | Manual (IL) |
| 50 | Caleb Battles | 2027 | 6'0 | G | Grafton (WI) |
Ronnie Flores is the Publisher of hoopscooponline.com. He can be reached at ronlocc1977@gmail.com. Don't forget to follow him on Twitter: @RonMFlores