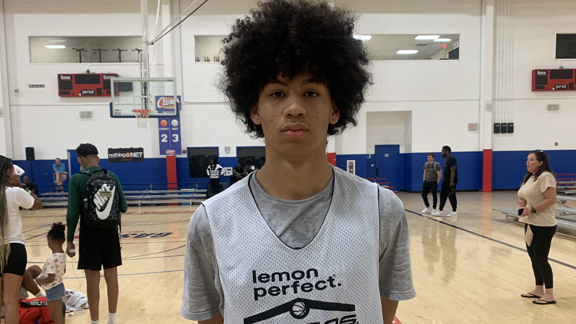 We took in all the sessions of the 2023 Pangos All-South Frosh/Soph Camp at the Duncanville Fieldhouse (Duncanville, Texas) this past weekend and broke down our notes and evaluations to rank the top fifty players in attendance. 
We hope you enjoy this free list. To access all our event top performer rankings, national player rankings back to 1983, recruiting updates and other features, please subscribe today! CLICK HERE for more subscription details and sign up info.

The following rankings are based on evaluations of all 220 plus campers from all the sessions, not just the two Cream of the Crop All-Star Games. The following rankings are based on performance at the camp only, not on performance combined with previous honors, national or state player rankings. They are also ranked with actual performance in mind, not a player's potential as a college prospect. Some players did not participate in every session of the camp and in some instances that altered the rankings. There was a plethora of talented wings and some young post talent was among the best performers at the event. Keep in mind guards, or players with the ball in their hands, tend to dominate showcase settings such as the Pangos Frosh/Soph Camp (s).
RELATED from Ballislife.com: Pangos All-South Notebook I | Pangos All-South: Wings Dominate
Editor's Note: Use the scroll bar underneath the table, or use your fingers to scroll to the right, to view all the data within the table.

| No. | Player | Class | HT | POS | Hometown |
| --- | --- | --- | --- | --- | --- |
| 1 | Jacob Lanier | 2026 | 6'6 | F | Maumelle (AR) |
| 2 | Seven Spurlock | 2026 | 6'5 | F | Frisco Memorial (TX) |
| 3 | Davion Adkins | 2026 | 6'6 | F | Faith Family (TX) |
| 4 | King Gibson | 2027 | 6'4 | G | The Burlington School (NC) |
| 5 | Dorion Bowen | 2026 | 6'5 | G | Whitehaven (TN) |
| 6 | Alex Barther II | 2026 | 6'5 | F | Forth Worth Eastern Hills (TX) |
| 7 | James Sanderson | 2026 | 6'3 | G | Frisco Emerson (TX) |
| 8 | Tyrone Jamison | 2027 | 6'2 | G | Calvary Baptist Academy (LA) |
| 9 | Silas Rodriguez | 2026 | 6'3 | G | Denton Guyer (TX) |
| 10 | Bryce Dixon | 2026 | 6'4 | G | The Colony (TX) |
| 11 | Trent Perry | 2026 | 6'4 | G | Lone Star (TX) |
| 12 | Ethan Sheats | 2026 | 6'8 | F | Denton (TX) |
| 13 | Armon Almuttar | 2026 | 6'4 | F | Parish Episcopal (TX) |
| 14 | Steve McLeod | 2027 | 6'7 | F | Grand Prairie (TX) |
| 15 | Phoenix Woodson | 2026 | 6'7 | F | Crossings Christian (OK) |
| 16 | Terrell Jackson | 2028 | 6'8 | C | Berry MS (TX) |
| 17 | Keonte Greybear | 2026 | 6'1 | G | McKinney Emerson (TX) |
| 18 | Bo Ogden | 2026 | 6'5 | F | St. Michael's Academy (TX) |
| 19 | Nasir Price | 2026 | 6'4 | G | Seven Lakes (TX) |
| 20 | Kameron Hicks | 2027 | 6'1 | G | Little Rock Christian Academy (AR) |
| 21 | Jacori Jones | 2026 | 6'0 | G | Ray Braswell (TX) |
| 22 | Anthony Spencer III | 2026 | 6'6 | F | Faith Family (TX) |
| 23 | Mike Gibbs | 2026 | 6'7 | F | Sam Houston (TX) |
| 24 | Cartern Chism | 2026 | 6'2 | G | Mt. Pleasant (TX) |
| 25 | Caleb Richard | 2026 | 6'2 | G | Mansfield Timberview (TX) |
| 26 | Kingston Willis | 2026 | 5'11 | G | Faith Family (TX) |
| 27 | Xavier Green | 2026 | 5'11 | G | The Colony (TX) |
| 28 | Daniel Ogoemeka | 2026 | 7'0 | C | W.T. White (TX) |
| 29 | Dawson Battie | 2027 | 6'7 | F | St. Mark's (TX) |
| 30 | Anthony Hester | 2026 | 6'5 | F | Mills University (AR) |
| 31 | Caden Deffebaugh | 2026 | 6'4 | G | Frisco Memorial (TX) |
| 32 | Lance Williams | 2026 | 6'8 | F | Lewisville iSchool (TX) |
| 33 | Beau Billingsley | 2026 | 6'0 | G | Norman (OK) |
| 34 | Trae Nunn | 2026 | 6'4 | F | Waxahachie (TX) |
| 35 | Luke Susko | 2026 | 6'5 | F | Avoyelles Charter School (TX) |
| 36 | Trey Dorsey | 2027 | 6'0 | G | Baton Rouge Liberty (LA) |
| 37 | Will Saunders | 2026 | 6'6 | F | Dallas Highland Park (TX) |
| 38 | Kelan Collins | 2026 | 5'7 | G | Mexia (TX) |
| 39 | Solomon Bradshaw | 2026 | 5'10 | G | Universal Academy (TX) |
| 40 | Daryus Tasby | 2026 | 6'4 | F | Richmond Bush (TX) |
| 41 | Amarion Hunter | 2027 | 6'2 | G | Dallas Carter (TX) |
| 42 | Damarion Wickware | 2027 | 6'4 | F | Dallas Kimball (TX) |
| 43 | Brandon Wright | 2027 | 6'2 | G | Little Rock Central (AR) |
| 44 | Isaak Hayes | 2027 | 5'10 | G | North Crowley (TX) |
| 45 | Antoine Almuttar | 2026 | 6'4 | F | Parish Episcopal (TX) |
| 46 | Cadarian Urune | 2027 | 6'3 | G | Rowlett (TX) |
| 47 | Jaxson Thompson | 2026 | 6'0 | G | Greenhill School (TX) |
| 48 | James McCall Spears | 2027 | 6'4 | F | Garland Lakeview (TX) |
| 49 | Theodore Brannan | 2026 | 5'9 | G | Mansfield Summit (TX) |
| 50 | Robert Moore | 2026 | 6'0 | G | Keller Timber Creek (TX) |