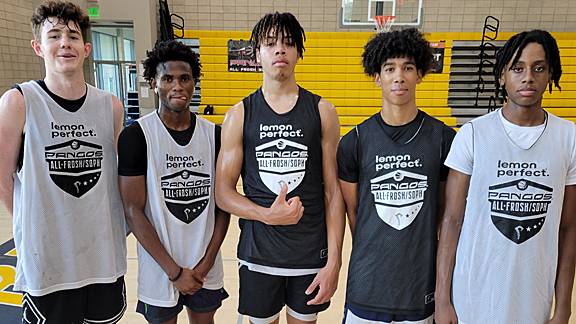 We took in all the sessions of the 2023 Pangos All-West Frosh/Soph Camp in Long Beach, Calif., over the weekend and broke down our notes and evaluations to rank the top fifty players in attendance.
We hope you enjoy this free list. To access all our event top performer rankings, national player rankings back to 1983, recruiting updates and other features, please subscribe today! CLICK HERE for more subscription details and sign up info.

The following rankings are based on evaluations of 194 campers from all the sessions, not just the two Cream of the Crop All-Star Games. The following rankings are based on performance at the camp only, not on performance combined with previous honors, national or state player rankings. They are also ranked with actual performance in mind, not a player's potential as a college prospect. Some players did not participate in every session of the camp and in many instances that altered the rankings. Some of the camp's elite players only participated for one day because of injury or prior fall league commitments. The camp was balanced in terms of quality prospects after the top 10 and a handful of players were singled out who didn't play in either all-star game. Keep in mind guards tend to dominate showcase settings such as the Pangos Frosh/Soph Camp(s) and we always make a point to look for quality post play.
RELATED from Ballislife.com – Pangos All-West Fr/Soph: Loaded 2026 Class Shines!
Editor's Note: Use the scroll bar underneath the table, or use your fingers to scroll to the right, to view all the data within the table.
| No. | Player | Class | HT | POS | Hometown |
| --- | --- | --- | --- | --- | --- |
| 1 | Brandon McCoy | 2026 | 6'4 | G | St. John Bosco (CA) |
| 2 | Tyran Stokes | 2026 | 6'8 | F | Prolific Prep (CA) |
| 3 | Ikenna Alozie | 2026 | 6'3 | G | Dream City Christian (AZ) |
| 4 | Brayden Kyman | 2026 | 6'8 | F | Santa Margarita (CA) |
| 5 | Elias Obenyah | 2026 | 6'4 | G | Salesian (CA) |
| 6 | Miles Sadler | 2026 | 5'10 | G | Canyon International (AZ) |
| 7 | Samuel Mbingazo | 2026 | 6'9 | C | Alemany (CA) |
| 8 | Paul Osaruyi | 2027 | 6'10 | C | Canyon International (AZ) |
| 9 | Drew Anderson | 2026 | 6'7 | F | Santa Margarita (CA) |
| 10 | Maximus VanLaningham | 2026 | 6'9 | F | Woodcreek (CA) |
| 11 | Myles Jones | 2026 | 6'3 | G | Modesto Christian (CA) |
| 12 | Mayom Mayom | 2027 | 6'8 | F | Canyon International (AZ) |
| 13 | Rokiem Green | 2026 | 6'2 | G | Canyon International (AZ) |
| 14 | Jaden Goodman | 2026 | 6'6 | F | Inderkum (CA) |
| 15 | Julius Price | 2026 | 6'3 | G | St. Joseph (CA) |
| 16 | Justice Griffith | 2026 | 6'0 | G | Corona Centennial (CA) |
| 17 | Mahamed Toure | 2027 | 6'7 | F | San Gabriel Academy (CA) |
| 18 | Siincere Hudson | 2027 | 6'2 | G | Inderkum (CA) |
| 19 | N.J. Gray | 2027 | 5'10 | G | Branson (CA) |
| 20 | Eli Garner | 2026 | 6'5 | F | Damien (CA) |
| 21 | Aiden Rollins | 2026 | 6'3 | G | Elk Grove Franklin (CA) |
| 22 | Abdoul Bare | 2026 | 6'9 | C | St. Joseph (CA) |
| 23 | Gavin Dean-Moss | 2026 | 6'1 | G | St. John Bosco (CA) |
| 24 | Jayden Shazier-Harbin | 2027 | 6'7 | F | Inglewood (CA) |
| 25 | Ja'Vance Coleman | 2026 | 6'1 | G | Bullard (CA) |
| 26 | Jordan Charles | 2026 | 5'11 | G | Dream City Christian (AZ) |
| 27 | T.J. Harris | 2026 | 6'0 | G | Paradise Honors (AZ) |
| 28 | Rodney Westmoreland III | 2026 | 6'1 | G | Dougherty Valley (CA) |
| 29 | Andre Amesquita-Carter | 2028 | 6'2 | G | Head-Royce (CA) |
| 30 | Jaden Bailes | 2026 | 6'2 | G | St. Augustine (CA) |
| 31 | Dalen Felder | 2026 | 6'2 | G | Bullard (CA) |
| 32 | Brennan Williams | 2026 | 6'3 | F | Bellarmine (CA) |
| 33 | Joven Dulay | 2026 | 6'5 | F | Folsom (CA) |
| 34 | JoSahn Webster | 2026 | 6'3 | G | King-Drew (CA) |
| 35 | Joseph Wicker | 2026 | 6'3 | G | St. Anthony (CA) |
| 36 | Ty Ingram | 2026 | 6'2 | G | Cathedral Catholic (CA) |
| 37 | McKae Amundsen | 2026 | 5'8 | G | Clovis North (CA) |
| 38 | Christian Clayman | 2026 | 6'6 | F | SoCal Academy (CA) |
| 39 | Carter Parker | 2028 | 6'3 | F | Hillview MS (CA) |
| 40 | Owen Auguunas | 2026 | 6'1 | G | Wesleyan Christian (NC) |
| 41 | Avery Huston | 2027 | 6'2 | G | Cascade Christian (OR) |
| 42 | Heath French | 2027 | 6'3 | F | Branson (CA) |
| 43 | Will Bryson III | 2026 | 6'3 | F | Notre Dame (CA) |
| 44 | Lydell Farmer | 2026 | 6'4 | G | Clovis East (CA) |
| 45 | Adrian Galloway | 2027 | 6'2 | G | Twin Falls (ID) |
| 46 | Nnamdi Ogali | 2026 | 6'8 | F | Canyon International (AZ) |
| 47 | Pharrel Ukwu | 2026 | 6'8 | F | LA Premier Prep (CA) |
| 48 | Malcolm Price | 2027 | 6'0 | G | St. Joseph (CA) |
| 49 | Julian Turner | 2027 | 6'0 | G | Shasta (CA) |
| 50 | Maxwell Jackson | 2027 | 6'0 | G | Amador Valley (CA) |
Ronnie Flores is the Publisher of hoopscooponline.com. He can be reached at ronlocc1977@gmail.com. Don't forget to follow him on Twitter: @RonMFlores