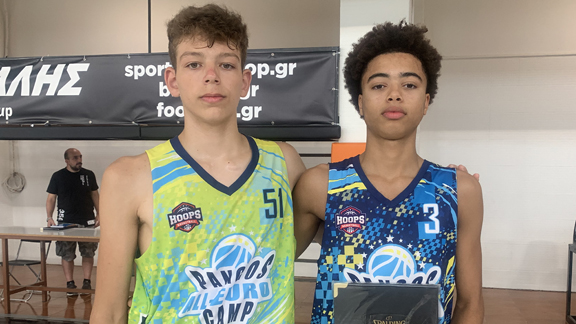 We evaluated all the sessions of the 2023 Pangos All-Euro Camp at Basketaki Arena (Athens, Greece) on August 9-10 and broke down our notes and evaluations to rank the top 25 players in attendance.
We hope you enjoy this free list. To access all our event top performer rankings, national player rankings back to 1983, recruiting updates and other features, please subscribe today! CLICK HERE for more subscription details and sign up info.
The following rankings are based on evaluations from all the sessions of the 2023 Pangos All-Canada Camp, not just the two Cream of the Crop All-Star Games. The rankings are based on performance at the camp only, not on performance combined with previous honors, or international ranking. Some players did not play in every session of the camp and in some instances, that changed that particular player's ranking. This was the first Pangos event in Europe and among the 55 participants there were 10 definite D1 prospects and a few more that have the potential to reach that level with a bit more maturity, development and visibility. There was a wide range of players in terms of age and ability and that played a role in the rankings. Our evaluations are based on all-around performance within the context of winning basketball and the stats compiled for the all-star game.
Editor's Note: Use the scroll bar underneath the table, or use your fingers to scroll to the right, to view all the data within the table.
| No. | Player-AGE | Class | HT | POS | Hometown |
| --- | --- | --- | --- | --- | --- |
| 1 | Noah Penda (18) | 2023 | 6'7 | F | Paris, France |
| 2 | Tomas Stankevicius (17) | 2024 | 6'7 | F | Kaunas, Lithuania |
| 3 | Giorgos Giantsidis (14) | 2027 | 6'3 | G | Athens, Greece |
| 4 | Noel Emile-Lewis Mantock (16) | 2026 | 6'4 | G | Novi Sad, Serbia |
| 5 | Stavros Karpouzis (17) | 2024 | 6'9 | F | Thessaloniki, Greece |
| 6 | Yannos Xanthopoulos (16) | 2024 | 6'8 | F | Athens, Greece |
| 7 | Eldin Ejubovic (17) | 2026 | 6'1 | G | Amsterdam, Netherlands |
| 8 | Georgios Vassilakis (18) | 2024 | 6'8 | F | Helsinki, Finland |
| 9 | Bilal Raymond Petersen (17) | 2026 | 6'2 | G | Copenhagen, Denmark |
| 10 | Apostolos Paziotopoulos (18) | 2024 | 6'3 | G | Milan, Italy |
| 11 | Paris Papadatos (17) | 2024 | 6'4 | G | Athens, Greece |
| 12 | Dimitris Kakarouchas (17) | 2024 | 6'4 | F | Athens, Greece |
| 13 | Atanasij Trajanov (17) | 2024 | 6'6 | F | Macedonia |
| 14 | Orestis Koutras (15) | 2025 | 6'0 | G | Psihiko, Greece |
| 15 | Divine Nnadi (18) | 2023 | 6'0 | G | Athens, Greece |
| 16 | Rodney Ekwoanya (18) | 2024 | 6'4 | F | London, England |
| 17 | Ioannis Donakis (17) | 2024 | 6'7 | F | Thessaloniki, Greece |
| 18 | Antonios-Rafail (16) | 2025 | 6'1 | G | Thessaloniki, Greece |
| 19 | Alleia Ivan Mobio (18) | 2023 | 6'3 | G | Alba, Italy |
| 20 | Brajan Vujotic (18) | 2024 | 6'5 | F | Podgorica, Montenegro |
| 21 | Themistoklis Donakis (14) | 2026 | 6'0 | G | Thessaloniki, Greece |
| 22 | George Tsakiris (16) | 2025 | 6'3 | G | Athens, Greece |
| 23 | Georgios Siotas (18) | 2023 | 6'5 | F | Athens, Greece |
| 24 | Kamil Cardot (18) | 2023 | 6'5 | F | Reims, France |
| 25 | Neo Anker Allarp Dengaky (14) | 2028 | 6'1 | G | Copenhagen, Denmark |
Ronnie Flores is the Publisher of hoopscooponline.com. He can be reached at ronlocc1977@gmail.com. Don't forget to follow him on Twitter: @RonMFlores