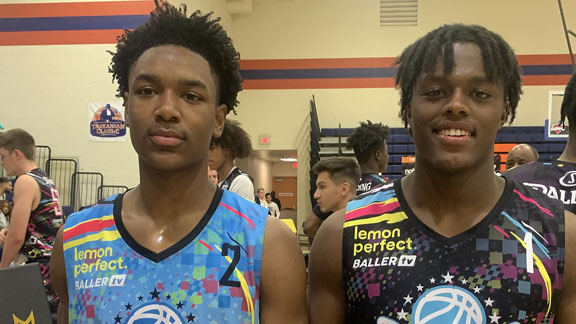 We evaluated all the sessions of the 2023 Pangos All-American Camp at Bishop Gorman (Las Vegas, Nev.) June 4-6 and broke down our notes and evaluations to rank the top 55 players in attendance.
We hope you enjoy this free list. To access all our event top performer rankings, national player rankings back to 1983, recruiting updates and other features, please subscribe today! CLICK HERE for more subscription details and sign up info.
The following rankings are based on evaluations from all the sessions of the 2023 Pangos All-American Camp, not just the two Cream of the Crop All-Star Games. The rankings are based on performance at the camp only, not on performance combined with previous honors, national or state ranking. Some players did not play in every session of the camp and in some instances, that changed that particular player's ranking. Some of the players who were injured or had to leave camp early include Pape Makhan Diouf of Bella Vista (Scottsdale, Ariz.), Brayden Burries of Roosevelt (Eastvale, Calif.), Carlsheon Young of Newcastle (Okla.) and Elzie Harrington of St. John Bosco (Bellflower, Calif.), among others. This camp  plenty of depth in terms of Top 100 national prospects, although less sure-fire pros than in year's past. With the vast amount of quality players and little drop-off between No. 30-55, there ultimately are some deserving players who just missed the Top 55 that would be in another evaluators' list based on which game one focused on among the three playing courts. Our evaluations are based on all-around performance within the context of winning basketball and stats we kept ourselves for the all-star games.
RELATED:  Pangos Camp coverage on ballislife.com: Pangos: Shooters Steal Show! | "In The Paint" Podcast (Spotify)  | Ballislife Podcast Network (YouTube) |
Editor's Note: Use the scroll bar underneath the table, or use your fingers to scroll to the right, to view all the data within the table.
| No. | Player | Class | HT | POS | Hometown |
| --- | --- | --- | --- | --- | --- |
| 1 | Cam Scott | 2024 | 6'6 | SF | Lexington (SC) |
| 2 | Rob Wright | 2024 | 5'11 | PG | Montverde Academy (FL) |
| 3 | Flory Bidunga | 2024 | 6'9 | C | Kokomo (IN) |
| 4 | Vyctorius Miller | 2024 | 6'5 | PG | AZ Compass Prep (AZ) |
| 5 | Mercy Miller | 2024 | 6'3 | SG | Notre Dame (CA) |
| 6 | R.J. Jones | 2024 | 6'8 | SF | The Rock School (FL) |
| 7 | Ahmad Nowell | 2024 | 6'0 | PG | Imhotep Charter (PA) |
| 8 | Larry Johnson | 2024 | 6'5 | SG | SoCal Academy (CA) |
| 9 | Tahaad Pettiford | 2024 | 6'1 | PG | Hudson Catholic (NJ) |
| 10 | Rakease Passmore | 2024 | 6'6 | SF | Combine Academy (NC) |
| 11 | Jasper Johnson | 2025 | 6'5 | PG | Woodford County (KY) |
| 12 | Jalil Bethea | 2024 | 6'4 | SG | Archbishop Wood (PA) |
| 13 | James Brown | 2024 | 6'10 | PF | Link Academy (MO) |
| 14 | Isaiah Abraham | 2024 | 6'6 | SF | Paul VI (VA) |
| 15 | Johnuel "Boogie" Fland | 2024 | 6'2 | PG | Archbishop Stepinac (NY) |
| 16 | Labaron Philon | 2024 | 6'4 | PG | Baker (AL) |
| 17 | Naasir Cunningham | 2024 | 6'7 | SF | Overtime Elite (GA) |
| 18 | Derrion Reid | 2024 | 6'7 | PF | Grovetown (GA) |
| 19 | Tounde Yessoufou | 2025 | 6'5 | SF | St. Joseph (CA) |
| 20 | Emmanuel Stephen | 2024 | 7'0 | C | Dream City Christian (AZ) |
| 21 | Hudson Greer | 2025 | 6'6 | SF | Lake Travis (TX) |
| 22 | Trent Perry | 2024 | 6'4 | PG | Harvard-Westlake (CA) |
| 23 | Kon Knueppel | 2024 | 6'6 | SF | Wisconsin Lutheran (WI) |
| 24 | Tyler Betsy | 2024 | 6'8 | SF | St. Thomas More (CT) |
| 25 | Eric Freeny | 2024 | 6'5 | SG | Centennial (CA) |
| 26 | Darrion Sutton | 2024 | 6'9 | SF | Accelerated Schools (CO) |
| 27 | Jase Richardson | 2024 | 6'3 | PG | Bishop Gorman (NV) |
| 28 | Aiden Sherrell | 2024 | 6'11 | C | Prolific Prep (CA) |
| 29 | Adam Njie | 2024 | 6'2 | PG | Cardinal Hayes (NY) |
| 30 | Styles Phipps | 2024 | 6'2 | PG | St. Mary's (AZ) |
| 31 | Jamari Phillips | 2024 | 6'3 | SG | AZ Compass Prep (AZ) |
| 32 | Pape N'Diaye | 2024 | 6'10 | C | Trinity International (NV) |
| 33 | Brannon Martinsen | 2026 | 6'8 | SF | Mater Dei (CA) |
| 34 | Taj Degourville | 2024 | 6'5 | SF | Durango (CA) |
| 35 | Thomas Sorber | 2024 | 6'9 | C | Archbishop Ryan (PA) |
| 36 | Alexander Lloyd | 2025 | 6'4 | SG | Westminster Academy (FL) |
| 37 | Nikolas Khamenia | 2025 | 6'7 | SF | Harvard-Westlake (CA) |
| 38 | Khaman Maker | 2024 | 7'1 | C | Trinity International (NV) |
| 39 | Pharaoh Compton | 2024 | 6'7 | PF | AZ Compass Prep (AZ) |
| 40 | Robert Hinton | 2024 | 6'4 | SG | Harvard-Westlake (CA) |
| 41 | Tyler McKinley | 2024 | 6'9 | C | Link Academy (MO) |
| 42 | Jaden Toombs | 2024 | 6'10 | C | Dynamic Prep (TX) |
| 43 | Moustapha Thiam | 2025 | 7'2 | C | DME Academy (FL) |
| 44 | Jalen Reece | 2025 | 6'0 | PG | Oak Ridge (FL) |
| 45 | John Mobley Jr. | 2024 | 6'2 | SG | Bishop Gorman (NV) |
| 46 | Darius Adams | 2025 | 6'4 | SG | Manasquan (NJ) |
| 47 | Drake Powell | 2024 | 6'6 | SG | Northwood (NC) |
| 48 | Joson Sanon | 2024 | 6'6 | SF | Vermont Academy (VT) |
| 49 | Shon Abaev | 2025 | 6'7 | SF | Calvary Christian (FL) |
| 50 | Jaiden Glover | 2024 | 6'6 | SF | Patrick School (NJ) |
| 51 | Keitenn Bristow | 2024 | 6'8 | PF | Holliday (TX) |
| 52 | Sam Osayi | 2025 | 6'9 | PF | Potter's House Christian (FL) |
| 53 | Jayden Williams | 2024 | 6'9 | PF | Overtime Elite (GA) |
| 54 | Kany Tchanda | 2024 | 6'10 | C | Winston Salem Christian (NC) |
| 55 | Lathan Sommerville | 2024 | 6'9 | C | Skill Factory (GA) |
Ronnie Flores is the Publisher of hoopscooponline.com. He can be reached at ronlocc1977@gmail.com. Don't forget to follow him on Twitter: @RonMFlores